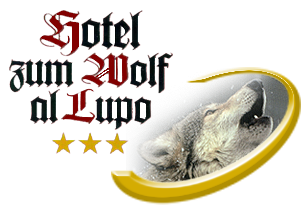 Where the past
meets present days…
Impressum
Hotel al Lupo
Owner of the site:
Hotel al Lupo***

Oswald von Wolkenstein street 5 - 39040 Castelrotto BZ, Italy
VAT: 02904680218
Tel. (0039) 0471 70 63 32 - Fax (0039) 0471 70 70 30
E-Mail:
info@hotelwolf.it
- Web:
www.hotelwolf.it
Konzept & Entwicklung:
INTERNETSERVICE G.M.B.H. - S.R.L
Sneton street 17A - 39046 Ortisei BZ, Italy
VAT: 02823430216
Tel. (0039) 0471 78 64 80 - Fax (0039) 0471 78 18 85
E-Mail:
info@internet-s.net
- Web:
www.internet-s.net
Contents / links:
Internet Service™ underlines that it doesn't have any influence on the graphic contents and on the programming of connected pages through link from the actual site. For this reason Internet Service™ doesn't take any responsibility and doesn't guarantee of the contents, the incompleteness or the correctness of the texts of the connected pages. The actual internet site could contain modifiable pages from the holder of the site through the CMS (Content Management System) system or other systems, for such motive Internet Service™ isn't responsible for the correctness or the completeness of such contents.
Privacy:
Information sheet in compliance with article 13 legislative decree No. 193/03 regarding the treatment of personal data and the consent to the treatment of the data: The data of this site have the finality to record the owner of the site and to activate in its comparisons an informative service on offers, prices and similar, related to the tourist structure / firm represented by this internet site. The conferment of such data, treated with electronic formality, is optional; nevertheless the missed conferment involves the impossibility of treatment from the developer. The owner of the site can ask for the updating, the rectification and the integration of the incomplete or inaccurate data, as well as the cancellation when the treatment violates norms of law or rule, besides the other faculties foreseen by the art. 7 of the D. Lgs. 196/2003, contacting the holder of the treatment of the actual internet site.
Reservation:

Internet Service™ doesn't develop any activity of hotel booking under his own responsibility. The established relationship through the booking concerns exclusively the internet consumer and the selected structure.
Text / photos:
The photos and the texts on the actual pages are furnished by the owner of the internet site. Some photos used for the realization of this site can be taken by the photographic archive of
Helmuth Rier,
Laurin Moser
and Internet Service™.

Contact address
Hotel Al Lupo***
Oswald von Wolkenstein street 5
I-39040 Castelrotto (Bz)
E-Mail:
info@hotelwolf.it
Tel. +39 0471 70 63 32
Fax +39 0471 70 70 30
The client card
Our guests get the "Holiday Area Seiser Alm Live Card" to us the public transportation (buses and trains) in South Tyrol.